Use the Link and download module to guide your visitors to one or more external links, internal pages, emails or files for download. You can include a single link/download or create a list with multiple links/downloads. You can add a Link and download module by selecting Link & download under the category Text and structure in the Add module overlay.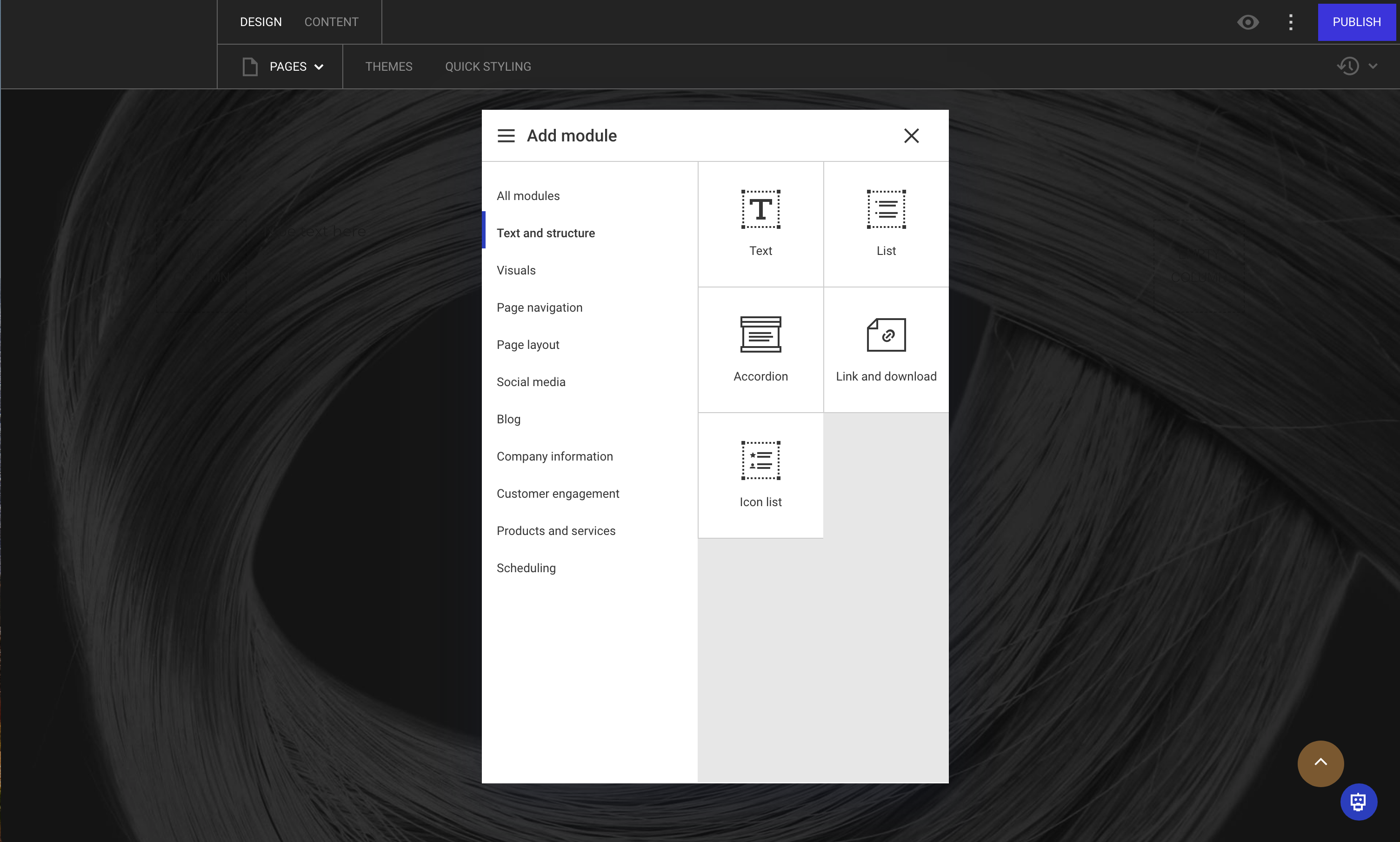 Hover the module and click on Content or Design on the dropdown to edit your Link and download module.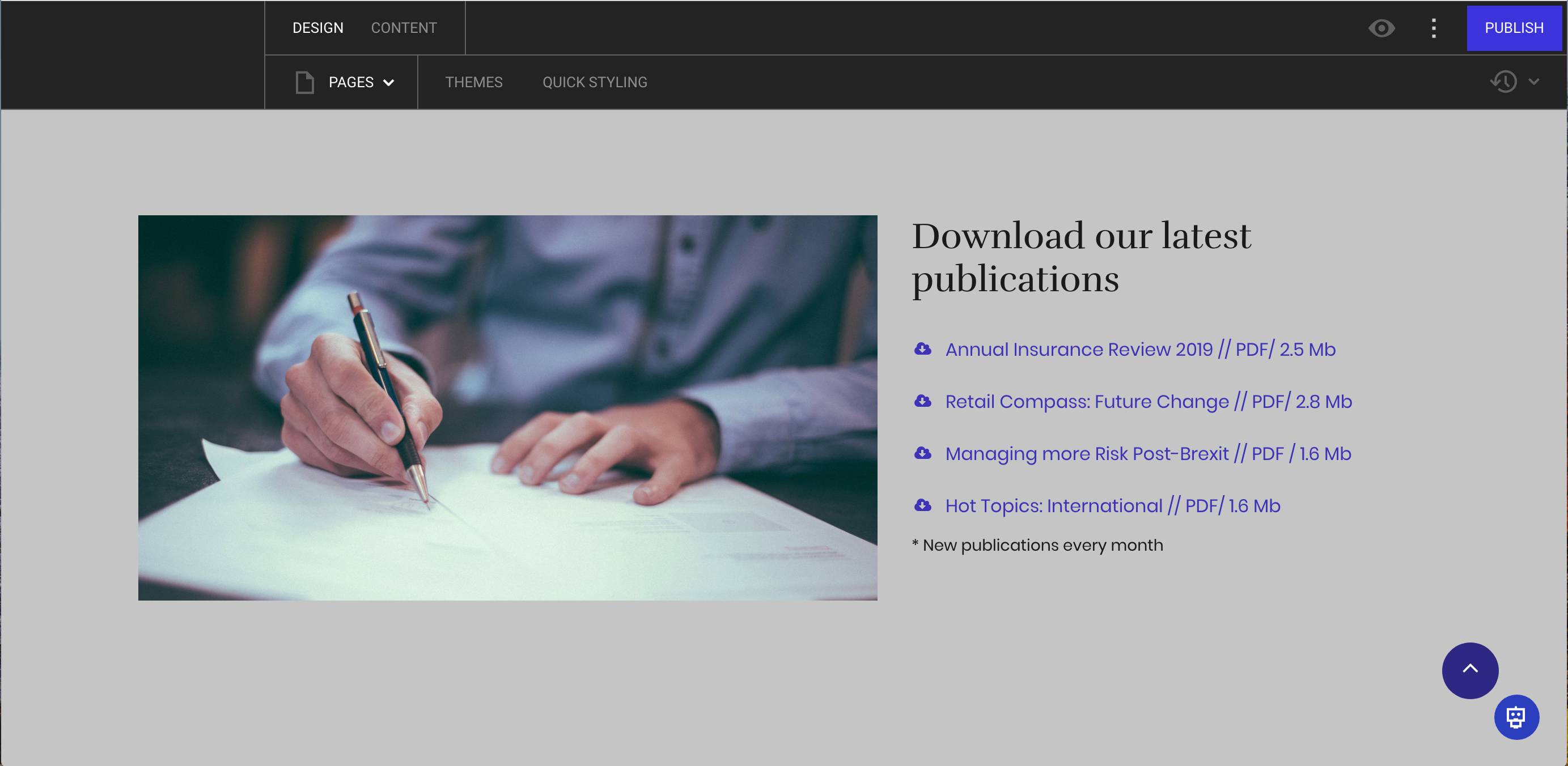 Content
Select whether you want to use website links or downloads that you have previously uploaded in Global Data, or add new content directly in the module.
Add Global Data content by enabling the function Use Global Data source. Choose from the dropdown whether you want to include your list from Website links or Downloads in Global Data.
Two Global Data options
You have the option to include one of two different Global Data sections in your Link and download module. The first section, Websites, include a list of all the website links you've added in Global Data in the section Website links. The second section, Downloads, include a list of all the files you've included in the Global Data section Downloads.
Add content manually to the module by clicking on Add element.
Each added element consists of the following:
Title: the title will be visible on your website and will be clickable and linked to either a URL, email or file depending on your link type.
Link type: choose between an external URL, internal page, email or upload a file that visitors can download.
Open link in new tab: enabling the option Open link in new tab will open your linked content in a new browser tab when clicked.
Set "nofollow" property: activate Set "nofollow" property if you don't want search engines to follow the hyperlink. When this setting is enabled, your link will not affect the target's search engine ranking.
Icon: add an icon next to the item on your list.

What do the different link types mean?
External URL: add a URL to an external page. This link type will by default activate the setting Open link in new tab to ensure that the visitor doesn't completely leave your website when they click your link.
Internal page: link to a page on your website.
Email: add an email address in the field. When the visitor clicks on the email, their default email client will open.
File: include a file by clicking on Add or drop file to browse your hard drive or drop your file on the outlined area. When visitors click on the file link, they'll download the file.

Add text in the Add note at bottom of list field if you want to include a brief note to visitors at the bottom of your link and download list.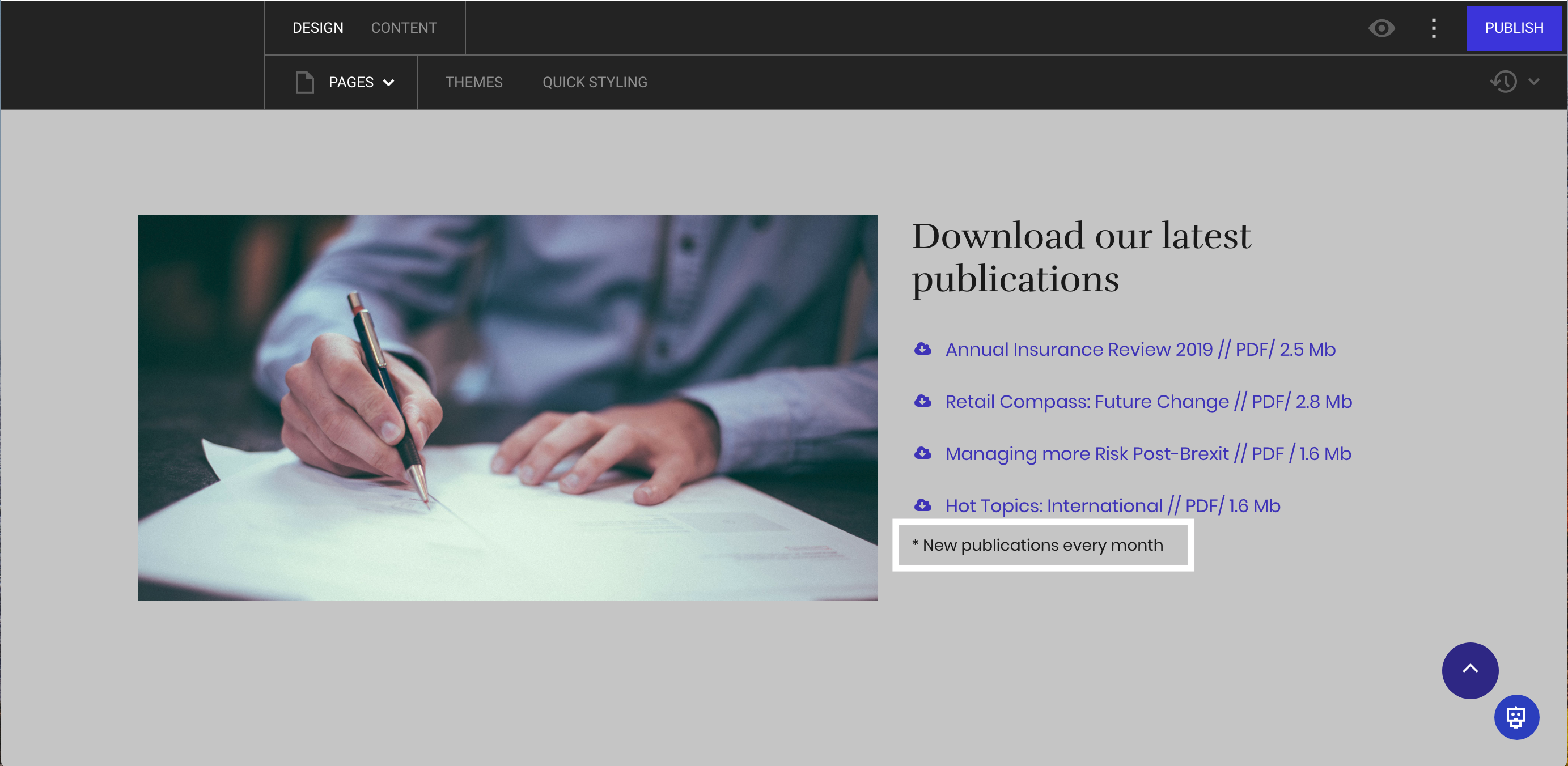 Select an icon in the List icon section if you want to add the same icon next to all your list elements. Note that any icons you have selected for specific elements on the list will overwrite your general list icon selection.
Adding both links and downloads in the same module
It's always recommended to use content from Global Data but there is one advantage to using manually added content in the Link and download module. Using manually added content gives you the option to have both website links and downloads in the same list. When using Global Data you can either include website links or downloads, but not both in the same list.
Design
The Design section is where you change the background, border, spacing and animation of your Link and download module.